---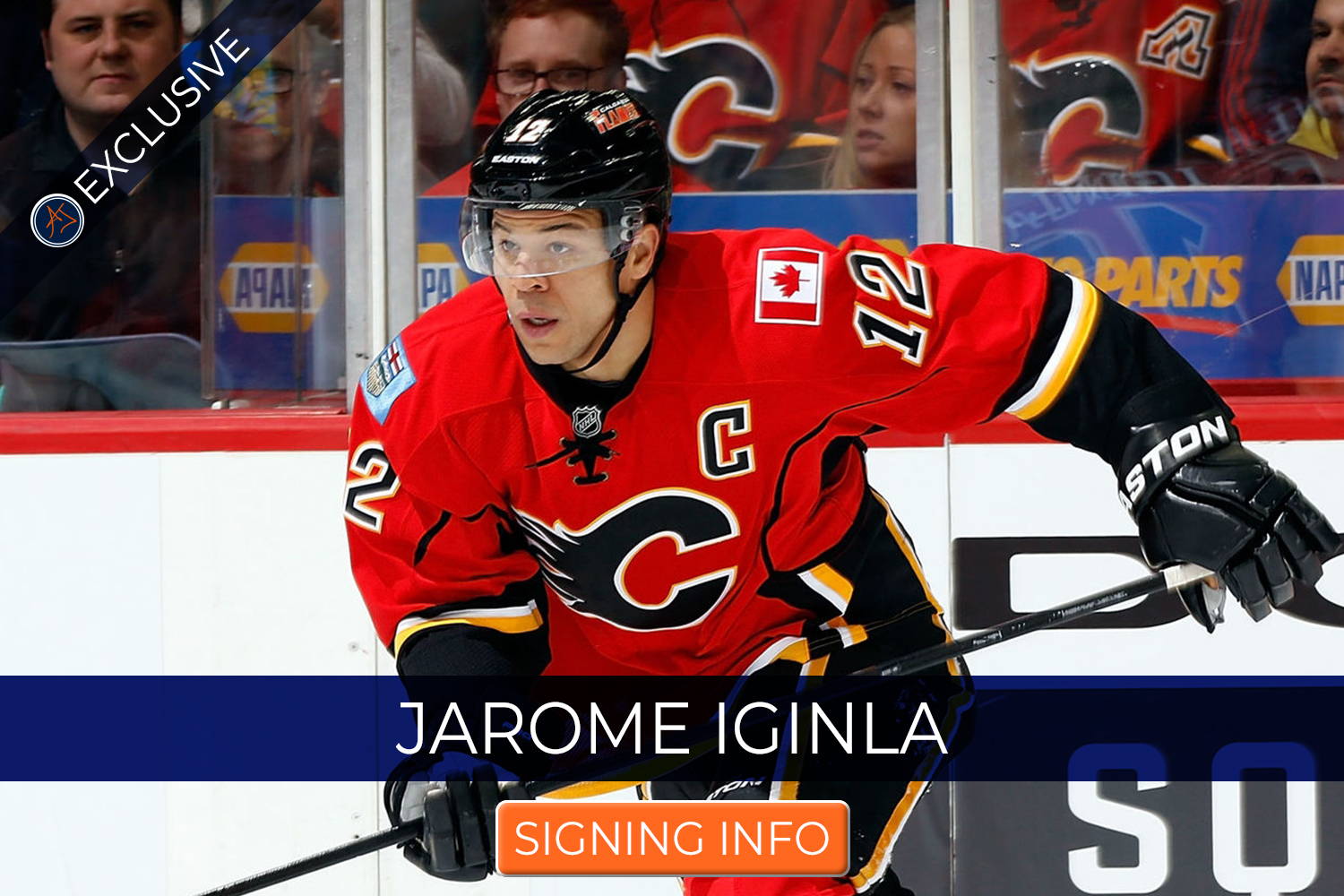 ---
We have rescheduled our signing with Jarome Iginla to take place July 2021.

AJ Sports will be conducting a private signing with exclusive athlete, Jarome Iginla. Iginla was elected to the Hockey Hall of Fame in 2020.
We have had to reschedule our Jarome Iginla signing due to unforeseen circumstances.
We plan to see him in Canada this summer.
---
---
---
PRE-ORDER PRODUCT BEFORE THE SIGNING
---
---
---
Each autograph fee is good for one autograph on one item.

You can have your own item signed or purchase one of our items to have signed.

You can send in or drop off your own item to be signed.

Regular items include: Small photos, pucks, cards, books, toys, and similar items.

Premium items include: Jerseys, photos larger than 16x20, art canvases, sticks, equipment, and similar items.

Items Excluded: jersey numbers, unlicensed jerseys, bulky items due to shipping.

AJ Authentication hologram will be attached to all items after the signing.

If you are shipping an item, please include a send in form in your package.
---
Most autograph events include hundreds of one of a kind signatures:
AJ Sports is not responsible and will not discount for minor imperfections.

AJ Sports is not responsible for any lesser quality autographs on send in items.

AJ Sports is not responsible for minor wear or damage common with handling an item.

AJ Sports will only be responsible up to a maximum of the cost of the autograph on the order for major damage or loss in shipping. If your item is valuable, please purchase separate insurance.

AJ Sports cannot not guarantee to send back markers, documents or exact holders sent in with items.
Each celebrity is a unique human and will have different approach to signings:
All celebrities reserve the right to refuse to sign any item.

All celebrities reserve the right to refuse, change or shorten any inscription.

All celebrities reserve the change or shorten any personalization.

Inscriptions or personalization must be obtained at the same time as the autograph and cannot be added to previously signed items.

We cannot refund or discount orders due to changes made by the celebrity.

AJ Sports is not responsible for any costs for any items that the celebrity refuses to sign.

Procedures:
Orders must be received by the date listed in the event details. If we sell out of a photo a similar one will be chosen.

Items received after the signing will be returned at the customer's expense.

Shipping costs will be added to all items that need to be shipped back.

Payment for the autograph fee must made prior to the signing.

Each event is based around celebrity schedule and dates are subject to change.

In the case of a postponement, orders will be held until the signing can take place.

Orders not picked up within 60 days of signing will have shipping charged and sent out.

US customers are responsible for all duties, taxes, and brokerage fees.

Orders from Canadian customers are subject to applicable sales taxes.

No refunds for any reason on pre order autographed items or service.
---
---